The recent antics of celebrity icon Kanye West beg the question of whether the rap mogul has always been batshit crazy and just off his meds, or whether the apparent erosion of his psychological state has evolved due to the pressures of being a celebrity.
Kanye had a busy long weekend, what with a performance on Saturday Night Live, promotion of Bill Cosby's innocence, re-initiation of his feud with Taylor Swift, release of his latest "Yeezy" clothing line, and the public debut then withdrawal of his latest album, "The Life of Pablo."  And during this hectic weekend Kanye spent significant energies fundraising, after announcing to fans via Twitter that he is  $53 million in debt. Among the primary targets of West's fundraising efforts was billionaire Mark Zuckerberg, from whom Kanye publicly solicited $1 billion, extolling the Google co-founder and CEO to invest in Kanye's ideas because Kanye "is the greatest living artist and the greatest artist of all time."
Can you spell, "megalomania?"
The rap star's long weekend began last Thursday, with the release of his clothing line, "Yeezy Season 3" in Madison Square Garden, where models showcased his latest designs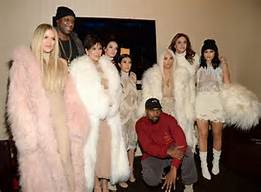 and Kanye debuted his latest album. Perhaps the first indication that Kanye may be slightly out of touch with reality is the $2,000 to $3,000 price range of his new clothing line. But, given that his extended Kardashian/Jenner family was in attendance sporting the rags, little doubt that at least a few celebrity sycophants will pony up the big bucks to be like a Kardashian.
The show also provided the venue in which to renew his feud with Taylor Swift, as he debuted his new song, "Famous," that declares that "I feel like me and Taylor might still have sex/Why? I made that bitch famous." In a case of "he said/she said," Kanye over the weekend insisted that Taylor had given him permission to use the line in the song, while Taylor's camp strenuously denied it.
And much of this renewed feud was publicly aired on Twitter, with Kanye spouting off a variety of Tweets defending the lyrics. In fact, Kanye spent so much time Tweeting over the weekend, that we're not quite sure how he found time to do anything else. Among his pronouncements regarding the lyrics were that he was being demonized and forced to compromise his art with politically-correct lyrics, and that, actually, the lyrics were Taylor's idea. Kanye also said that playing the song in Madison Square Garden on Thursday "felt like a scene from 'The Warriors' ALL GODS ALL GODS ALL GODS in the building."
Say what, Kanye?
Prior to his performance on Saturday Night Live, Kanye Tweeted: "I write this to you my brothers while still 53 million dollars in personal debt. Please pray we overcome… This is my true heart." And then Kanye reportedly had a complete meltdown backstage in the SNL studio, with repeated threats to walk off just prior to the start and during the live taping of the show. According to sources at the taping, Kanye was "freaking out about how the set was arranged. He was saying he's 'the greatest artist.' He [was] having regular meltdowns. Everyone was walking on eggshells around him." SNL producer Lorne Michaels and the Kardashian sisters reportedly had to calm Kanye down to convince him to go on with the show.
Kanye began hitting Zuckerberg up for cash on Sunday, with a Tweet stating, "Mark Zuckerberg invest 1 billion dollars into Kanye West Ideas." Other than a few other Tweets explaining his debt and how brilliant he is— "I'm this generation's Disney… I want to bring dope shit to the world…"—Kanye was relatively quiet, but on Monday he concluded his busy long weekend with more Tweeting about his financial situation, and pleas to Zuckerberg, as well as to Google co-founder Larry Page, to bail him out. Among Tweets let out during one five minute barrage were (insert your own [sic] where appropriate):
"I want to help the world and I need help to do it. I am an artist and care about humanity."
"Yes I am personally rich and I can buy furs and houses for my family"
"but I need access to more money in order to bring more beautiful ideas to the world."
"If I spent my money on my ideas I could not afford to take care of my family. I am in a place that so many artist end up."
"and I think the idea of being a celebrity a lot of times blocks the understanding of what my purpose is."
"I am ultra light beaming right now."
"I know I confuse you guys sometimes but please bare with me."
"This is a God dream"
And finally to add into the craziness that was Kanye's weekend, Virgin Australia jumped into the fray on Twitter when it posted a Tweet that said, "@kanyewest EAD you douche." For the record, "EAD" stands for "eat a d-ck." Virgin Australia apologized for any offense caused by the Tweet, but denied that it was sent out by any of its employees.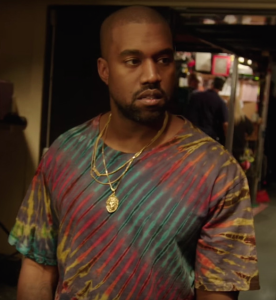 So, what do ya think? Is Kanye batshit crazy or just under a little work-related stress? Hash-It-Out!
—M.J. Moye
Comments
comments