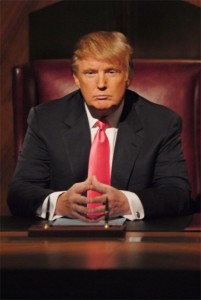 Well kids, we've got a new Republican contender this week for the highest office in the land, as Billionaire real-estate mogul and reality TV star Donald Trump announced on Tuesday that he is officially running for president of the United States. "The Donald," who said that he "will be the greatest jobs president that God ever created," offered numerous promises to the American Public about what he would achieve "very quickly" on their behalf as the nation's 45th president. Along with the repeal of Obamacare, he promised to build a wall on the U.S.-Mexico border, stop Iran from getting nuclear weapons and resuscitate the "dead" American Dream, among other things.
The Donald has publicly flirted with the idea of running for president since 1987, with subsequent public considerations for running given by Trump during the 2000, 2004, 2008 and 2012 campaign cycles. The most serious of those forays was the 2012 race, when he was even named a front-runner among the potential Republican slate of candidates in a 2011 Wall Street Journal/NBC News poll. But now Trump seems set to make an actual run, what with the announcement and the hiring of key staffers in the early primary states of Iowa, New Hampshire and South Carolina.
Trump has always had a reputation for enjoying the public spotlight, and in the past decade has probably become more recognized for being a celebrity, than he has been for whatever business acumen helped him become a billionaire. This is due in large part to his 14-year run as host of the hit reality TV show, The Apprentice, and for his general play-to-the-camera day-to-day showmanship.
So The Donald, even though he is trying to run for office as a successful billionaire businessman–the self-proclaimed "most successful person to ever run for the presidency by far"–will in many people's eyes be running as a celebrity.
Not that this is necessarily a bad thing, as America does have a few celebrity-to-public-office success stories:
Ronald Reagan might be most famous for his successful two-term stint as 40th President of the United States, but prior to his entry into national politics in the 1960s, Reagan was a Hollywood film star of sorts, starring in dozens of primarily "B" films in the 1930s, 40s and 50s.
And how about "The Governator,"–celebrity body builder and Hollywood action star Arnold Schwarzenegger? Two successful terms as California's governor, and a likely aspirant to the U.S. presidency were he not of Austrian birth.
Jesse Ventura, of World Wrestling Federation fame, who served as the 38th governor of Minnesota.
And there's Shirley Temple, who is among the most famous child stars of all time, and through her political activity was named U.S. ambassador to the United Nations, Ghana, and then the former Czechoslovakia.
Of course, there's been a few failures in the celebrity-to-public-office pipeline as well:
Comedian and actress Roseanne Barr ran for president in 2012 under the Peace and Freedom Party, but we can't say that we remember seeing her name on the ballot.
American Idol Season 2 runner up Clay Aiken did successfully win the Democratic primary in his race for a Congressional seat representing North Carolina, but failed to defeat the Republican incumbent in what is considered a conservative leaning district. Perhaps the singer will move to a more liberal part of the state and try again.
Robert John Burck, also known as "The Naked Cowboy" for his street performance on New York's Times Square, decided to run for mayor in 2009, with the slogan "No one knows how to do more with less than yours truly." He withdrew from that race and later declared his candidacy for the 2012 Presidential election; however, his naked self never officially hit the campaign trail.
And now we have The Donald….
No telling where this is going to go, but his campaign war chest is packed with more celebrity power and money than all the other Republican candidates combined.
For its part the National Democratic Committee is welcoming Mr. Trump's entry into the Republican field, noting that The Donald "adds some much-needed seriousness that has previously been lacking from the GOP field, and we look forward to hearing more about his ideas for the nation."
–M.J. Moye
Comments
comments