It is common knowledge that Marines know how to fight, but make no mistake about it, Marines know how to party.  Every year to celebrate the birthday of the Corps in November, Marine units worldwide will hold various formal celebrations known as the Marine Corps Ball.  Your nation's finest fighting force will put on their legendary Dress Blues, honor a few traditions, and then dance and imbibe the night away with their date.  And for one particular Marine this year, that is none other than UFC champion and knockout babe, Ronda Rousey.
The Celebrity Date
I am not sure who started it, but in recent years it has become quite the thing for Marines to take to social media in order to ask a celebrity to the Marine Corps Ball.  In fact, if you don't regularly follow military affairs you probably heard about the Marine Corps Ball courtesy of TMZ or some other celebrity gossip site.  I believe Milas Kunis and Justin Timberlake got roped into going a few years back which leads us to the real question at hand. Are these Marines conducting a cute gesture to score the date of their dreams or are they exploiting civilian guilt?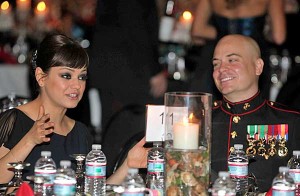 By civilian guilt, I would mean the notion that everyone is supposed to love the military even though only a remarkable few will ever actually serve.  So there are parades, retail discounts, and even free meals on Veteran's day for those that serve.  In that light, I feel like we must rant on whether these Marines are putting a public figure in a PR conundrum by asking them on a date or are they just being cute? Scarlett Johansen was asked a year or two ago and while she didn't attend, she at least felt obligated to gift some champagne instead.  Classy move I guess, but it highlights the point.  Just how obligated are these celebrities to respond to some 19-year old's date request without seeming unpatriotic?  But more importantly, if you were the Marine who just scored a date with Ronda Rousey, would you even care?
Can She Beat Up Her Date
I think that is the other remarkable question people are neglecting.  Yes this individual is a United States Marine although he looks of the scrawny sort.  However, we are talking about Ronda Rousey here.  This is a woman whose beauty is only surpassed by her powerful punch.  She obliterates every female opponent she faces and it is typically not even close.  As a result, to find a worthy opponent you really would have to starting looking at the males in the room.  And like it or not, this Marine just might have bitten off more than he could chew.
If you consider the biology of a man and woman, the science definitively proves the man would have the advantage.  If you doubt that, save it for another rant.  However, if Mr. Marine here got a little too "hands-on" during the first date, would Ronda Rousey knock him out, literally?  It is a fair question and worthy of your opinionated rant.  Did this Marine exploit patriotism to force public figure into a date?  But most importantly, could she knock this Marine out at the moment of her choosing?  This Marine inviting celebrities thing is not going away America.  At least not as long as they keep scoring wins like Ronda Rousey.  So speak now or forever hold your piece.
Comments
comments